On February 15th, ECE English hosted its first virtual workshop, during which we focused on the topic of podcasting in the First-Year Writing classroom. Podcasts are a fun and experimental way to have students engage with the drafting and revising processes: the audio genre encourages play in the classroom, enhances students' experiences with multimodal composition, and can get us thinking about what "counts" as "text" in new and interesting ways.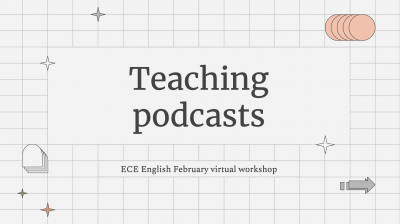 Our session began with a conversation about why podcasts are so useful for the composition classroom. Participants shared insight into why this mode of communication is a great way to break up the traditional writing and editing process. Since many podcasts are recorded by multiple hosts, the conversations they have often happen organically. Asking students to think about how we get information (via collaborating with others, by practicing our listening skills, etc.) is an excellent way to frame this assignment. This is a great chance to share some excellent podcast examples with your students! You may also consider folding in time to allow students to practice drafting and asking good interviewing/question-asking skills, so they learn to listen to their interlocutor rather than simply anticipating what they want to say in response.
Incorporating podcasts into the classroom also comes with the expectation that students will be using new technologies. This is a fun chance for students to experiment with recording and editing applications. Some of the apps mentioned during our conversation included: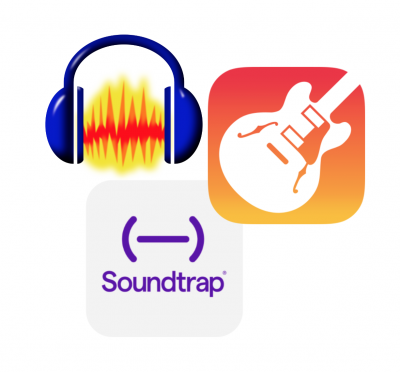 Garageband, a free software pre-installed on most Mac products
Audacity, a free-to-download application compatible with Mac and Windows products
WeeVideo, an online editor compatible with Chromebooks
Soundtrap, the Spotify-hosted platform made specifically for recording and editing podcasts
We also had some great conversations about the more practical particulars of podcasting, including:
Which podcast episodes you will incorporate as examples
How long students' podcast episodes should be (3-4 minutes? 5-6? 12-15?)
Whether students would record episodes on their own, or with a classmate co-host
How to fold the podcast into the course, and what topic they'd be expected to talk about (connecting it to a text students are reading? tying it to your course inquiry?)
How to alleviate nerves if students are anxious about speaking in front of audiences or recording themselves (setting clear parameters for who will hear the final draft? practicing with smaller spoken assignments ahead of time?)
To see the resources shared during this conversation, visit the event page for this virtual workshop. There, you'll find the Google Slideshow, links to readings that were discussed and distributed, and a recording of the WebEx conversation (including the chat).